Xacool Beach Umbrella, Super Windproof, Best UV Protection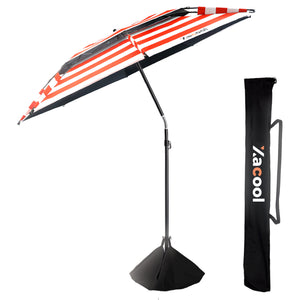 2-Layer Vent Design, Super Windproof, No Blown Away Guarantee! The double-layer structure provides the best ventilation among all large beach umbrellas on Amazon. With a metal sand anchor, a thickened metal pole, and a heavy-duty sandbag, Xacool large beach umbrella can perfectly stabilize to avoid breaking or being blown away in strong winds.

Outstanding UV Protection, Thicker Black Anti-UV Coating. Our good-quality beach umbrella provides excellent UV protection by using a thicker Oxford cloth fabric with a thicker vinyl UV coating. In other words, it maximizes heat insulation to make you feel extremely cool, so you will no more get sunburnt!

360-Degree Tilt, Easy Angle Adjustment, Easy Setup. By adjusting the spring of the metal pole, you can easily set any angle. Then you can block the sun's rays to get yourself protected under our large beach umbrella all day! And by following our instructions, it's super easy to set up the beach umbrella.

Lightweight and Portable for Travel. Fiberglass is a strong and lightweight material, which means the big beach umbrella is wind resistant and easy to carry. You can use it for sand ground or grass outdoor. But please note that it's too large to fit into a suitcase.

Money-Back Guarantee. Whenever you're unhappy with the product, we offer a money-back guarantee to all customers, so please feel free to buy.

LOCAL WAREHOUSE IN USA AND SHIP TO USA ONLY
Why Choose Xacool Beach Umbrellas?

Xacool is committed to better outdoor living. Our newly released beach umbrellas feature the windproof frame: a stronger pole, fiberglass ribs, a hook, a premium sand anchor and a large sandbag. Meanwhile, its premium black uv coating, flexible spring and ventilation design can maximize your shading experience!
Fabric:

Oxford cloth with 90G black UV coating.

Pole Material:

0.9-inch metal rod.

Frame:

Double fiberglass rib design.

Ventilation:

Yes.

Height Adjustable:

Yes.

Tilt Function:

Spring adjustable.
A Shovel

Included Much faster to use our equipped shovel than your bare hands to fill the sandbag.
Quick Lock and Height Adjustable

The height of the umbrella can be adjusted by the lock. ATTENTION: If you find the lock does not work, please use our included rope to tie, then request a pole replacement from us.
3 Sand Stakes Included

In order to resist wind better, 3 sand stakes should be used to better protect the umbrella from being blown away.
Wind Resistant Frame with Tiltable Function

Using fiberglass ribs, the umbrella is lighter while sturdy enough. With the spring, you can easily adjust the umbrella to any angle you want.
Umbrella

Umbrella case

Sand anchor

Sand bag

Other useful accessories.
It's easy to assemble in just a few minutes. Everything fits into a carry bag with a sturdy shoulder strap for easy portability. And there are different umbrella colors available.