Sunphio Umbrella Cone Wedge for Patio Table Hole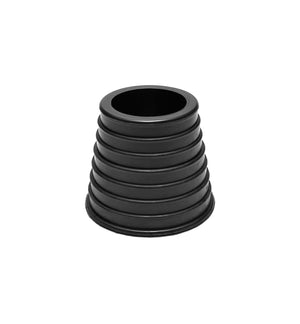 【APPLICABLE SIZE】Please measure your table and umbrella pole before ordering, it fits umbrella poles up to 1.5 inches in diameter, table hole opening/ umbrella weight base hole diameter 1.95 to 2.6 inch;
【PRACTICAL TOOL】This umbrella set is suitable for stabilizing patio umbrellas, reducing and preventing scratches or dents on unstable umbrella poles; Can be used in combination with a table and an umbrella to make the umbrella center on the table correctly. Suitable for any terrace table, parasol, courtyard umbrella, and other choices.
【STURDY MATERIAL】The umbrella wedge is made of extra weather-resistant material, and the umbrella hole ring is made of quality PVC plastic, great for outdoors, not easy to break.
【HOLDS UMBRELLA IN PLACE】 Tapered Design keeps the Umbrella properly seated and eliminates any rattles. This umbrella wedge might have a pre-cut seam at one side for better-fit the umbrella pole, and it works fine inside the patio table hole. No more swaying unbrellas on windy days with this patio umbrella cone!
【EASY INSTALL, REMOVE, AND STORAGE】1. Draw out the umbrella and pole from the hole on the patio table. 2. Install the Cone Wedge onto the umbrella pole. 3. Insert the umbrella and pole back into the hole on the patio table. 4. Spin and push the Cone Wedge Downard gently in order to have it sink into the hole compactly. (lube / oil / vaseline might help in doing this).the umbrella cone wedge fits umbrella poles up to 1.5 inches in diameter; Please confirm the size before placing the order