Sunphio Travel Umbrella Windproof 16 Ribs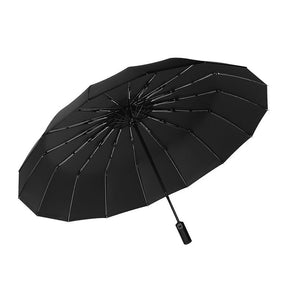 Automatic Open and Close. We built our travel umbrella with an automatic operation system, opening and closing with just a touch of the button. It's super easy.
Frame of 16 Ribs, Super Windproof and Durable. With a metal frame of 16 ribs, our travel umbrella is windproof and durable. You don't need to worry about its sturdiness.
Waterproof and Excellent UV Protection. The umbrella uses a black uv coating. Its UPF reaches 50+. So you don't need to worry about getting sunburned in the hot sun! The cloth of the umbrella also has great heat insulation so that you feel cool under it.
Lightweight and Portable. Our windproof travel umbrella is light, weighing around 500g (17.6 ounces), making it easy to carry and use for nearly everyone. Also, it's easy to open and close; even kids can do that without problems.
105cm Open Diameter. The size of the umbrella can meet your need in various occations. You can put them into your handbag without problems. Please refer to our size chart for details.