Sunphio Beach Umbrella Sand Anchor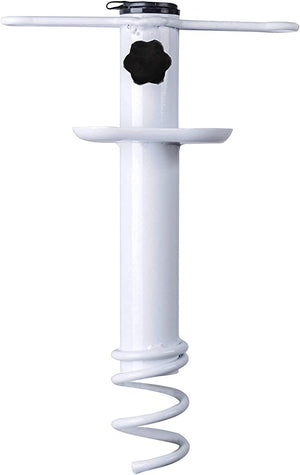 THE HEAVY DUTY SUNPHIO BEACH UMBRELLA SAND ANCHOR – Constructed in strong metal to offer solid wind resistance that can withstand winds up to 60MPH. The sand anchor does a wonderful job in strong ocean gusts and keeping the umbrella from blowing away in strong wind. With this, you can now enjoy sunshine comfortably at the beachside instead of worrying about fixing a falling beach umbrella.

LIGHTWEIGHT & EASY TO CARRY- The Sunphio beach umbrella sand anchor is designed for your convenient use; it comes with a sand anchor bag, and it weighs only 1.2 pounds, making it less of a burden and easy to take anywhere such as beach, campground or water park.

EASY TO USE: Screw the auger into sand, dirt or grass and place your umbrella in the base holder. It would accommodate most beach umbrellas by using thumbscrew tightening.

ONE SIZE FITS MOST: This anchor fits most size umbrellas using a thumbscrew tightening mechanism. Fits umbrellas with a pole diameter of up to 1.26". For any questions or problems, contact us.