Poshlr Windproof Beach Umbrella, Thick UV Protection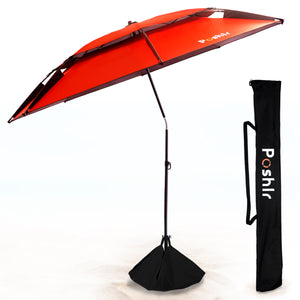 Super Windproof, No Blown Away Guarantee! Poshlr large beach umbrella comes with a metal sand anchor, a sturdy metal pole, and a heavy-duty sand bag to ensure it won't be blown away even in high wind. Among all the large beach umbrellas on Amazon, our good-quality beach umbrella is definitely worth your investment.

You Will Feel Cooler, Excellent UV Protection. With the 2-layer vent design and the thicker Black UV Coating, our beach umbrella has the best UV protection and allows ventilation in all directions. In other words, this design helps the umbrella disperse heat better to feel much cooler, and you will get no more sunburnt.

Lightweight, Portable and Universal. The fiberglass frame is sturdy and lightweight, making the beach umbrella compact and easy to carry for travel. It's so universal for both sand ground and grass outdoor. Besides, this beach umbrella is easy to set up in just a few minutes.

360-Degree Tilt, Easy Angle Change. The string with 360-degree tilt design allows you to set any angle to block the sun's UV rays quickly. Because of its big size, the beach umbrella can provide enough shade to cover you so that you can enjoy the breeze all day.

Money-Back Guarantee. Whenever you're not happy with our beach umbrella, we provide a money-back guarantee. You don't have any worries and please feel free to buy.

LOCAL WAREHOUSE IN USA and SHIP TO USA ONLY.
When mentioning our brand Poshlr, consumers will think of high-quality beach umbrellas. Made of premium materials, Poshlr umbrellas are perfected to block more than 95% of UV rays and they are your best choice for outdoor activities. We are committed to turning hot beaches into 'sanctuaries' so that every of our customers can enjoy the beach vacation with family and friends in comfort!
Set with Complete Accessories

The umbrella mainly contains 5 parts:
Umbrella

Umbrella case

Sand anchor

Sand bag

Other useful accessories.
It's easy to assemble in just a few minutes. Everything fits into a carry bag with a sturdy shoulder strap for easy portability. And there are different umbrella colors available.
Step 1

Premium 3-prong anchor. Press hard with your foot to make it fixed into the sand.
Step 2

Set up the sandbag. Compared with our last version, we now have added a sand bag and a shovel. On the protection of it, our umbrella will not be blown away in windy conditions.
Step 3

Hang the sandbag on the equipped hook to ensure that sand tightly surround the umbrella pole.
Step 4

Press the button to open the umbrella.
Step 5

Push down the buckle to lock the umbrella and pole. ATTENTION: If the buckle rebounds (a few cases were reported), please use our equipped rope to tie as shown on the right, then ask us for a pole replacement.
Step 6

Set up the 3 sand stakes. To increase the wind resistance, 3 sand stakes with ropes are included for you as well.
Umbrella Size:

6.5ft and 7ft available

Shade Area:

for 2 people

Rod:

Metal

Frame:

Fiberglass

Ventilation:

Yes (double-layer design)

Occasions:

Beach, lawn/grass, home, fishing, etc.