Luxbur Beach Umbrella 7ft, Windproof and UV protection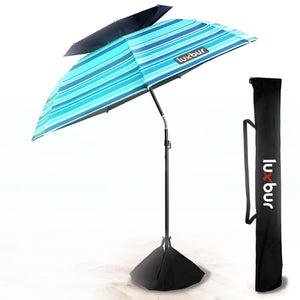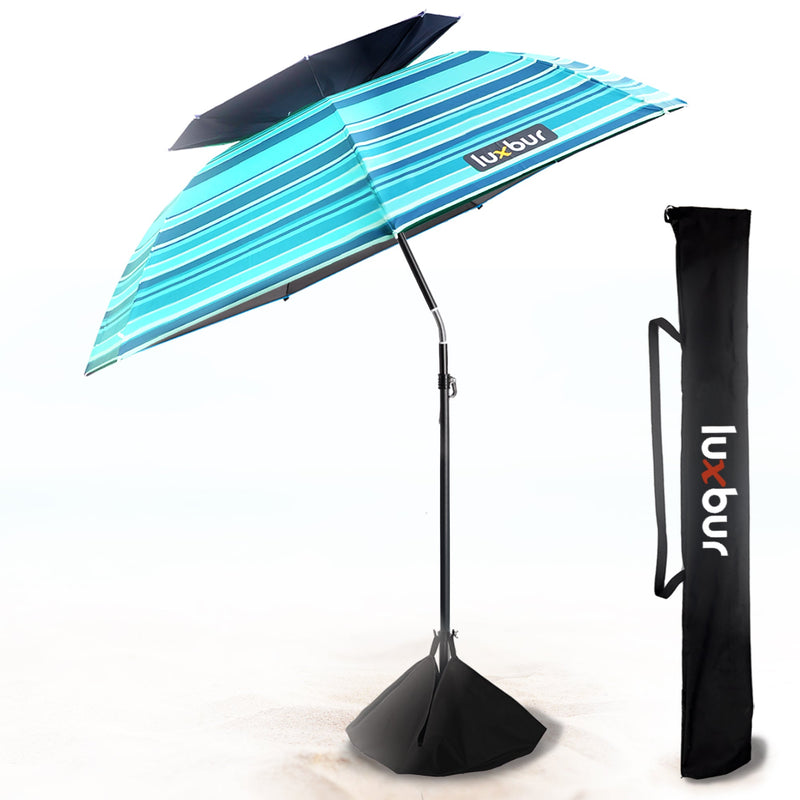 No Blown Away Guarantee, Super Windproof! Luxbur large beach umbrella uses a strong fiberglass frame and comes with a metal sand anchor and a heavy duty sand bag. It is super windproof and won't be blown away to hit people! It is also an easy setup beach umbrella used for sand ground and outdoor grass.

Excellent UV Protection with Black Thickened UV Coating. Many large beach umbrellas on Amazon do not come with an anti-UV coating but still claim to block UV from the sun's rays. Please be vigilant before purchasing.

Real 2-Layer Structure, Best Vented Design. This structure makes our large beach umbrella super stable in a gust because its vent effectively reduces the high wind force on its surface. Meanwhile, it can circulate the air in all directions to keep you feeling cool under the beach umbrella.

360-Degree Tilt Design, Lightweight and Portable. A 360-degree tilting design for a large beach umbrella is vital to block UV rays and protect you all day. The beach umbrella is portable and easy to carry with a carry bag. Using a lightweight fiberglass frame, it's great for travel, but please note that it cannot fit into a suitcase.

Money-Back Guarantee. We offer a money-back guarantee to all customers. You don't have to worry about anything, and you don't have to risk anything. Just feel free to purchase, and we're confident that Luxbur quality beach umbrella will not let you down.

LOCAL WAREHOUSE IN USA and SHIP TO USA ONLY.
Why Do We Love What We Do?

Now the rhythm of society is getting faster and faster. Everyone has endless work every day and is under great pressure. We are eager to relax outdoors. If we can provide a product that surprises everyone in outdoor activities, we will be very excited!
Fabric:

Oxford cloth with 90G black UV coating.

Pole Material:

0.9-inch metal rod.

Frame:

Double fiberglass rib design.

Ventilation:

Yes.

Height Adjustable:

Yes.

Tilt Function:

Spring adjustable.
Excellent UV Protection and Double-Layer Canopy Design

We use advanced black uv-coating for excellent uv resistance. Meanwhile, our double-layer canopy ensures satisfying ventilation performance.
Specification
Size: 6.5ft and 7ft available

Shade: For 2 people

Color: Several colors available

Rod: Tempered metal of 0.9" diameter

Frame: Fiberglass

Tiltable: 360 degrees

Ventilation: Yes (double-layer canopy)

Occasions: Beach, lawn/grass, fishing, camping, etc.
It's easy to assemble in just a few minutes. Everything fits into a carry bag with a sturdy shoulder strap for easy portability. And there are different umbrella colors available.
Enjoy the Coolness from Sunrise to Sunset

The spring of the pole can be adjusted 360 degrees, allowing you to get shade at target angle easily. And with the ventilation design, you can enjoy coolness from sunrise to sunset!
High-quality Accessories, Super Wind-resistant Performance

The anchor is premium and not easily broken. We provide a sandbag and 3 sand stakes to keep umbrellas from being blown away even in winds up to 40+ MPH! We provide a shovel, which can accelerate the installation of the sand bag in just a few minutes.
Buckle Design

Pull the buckle down to lock up the umbrella and pole. ATTENTION: If the buckle accidently does not work, please use our included rope to tie as on the right, and we will offer help accordingly.